Development of high-power THz wave sources
is-TPG
injection-seeded THz wave parametric generator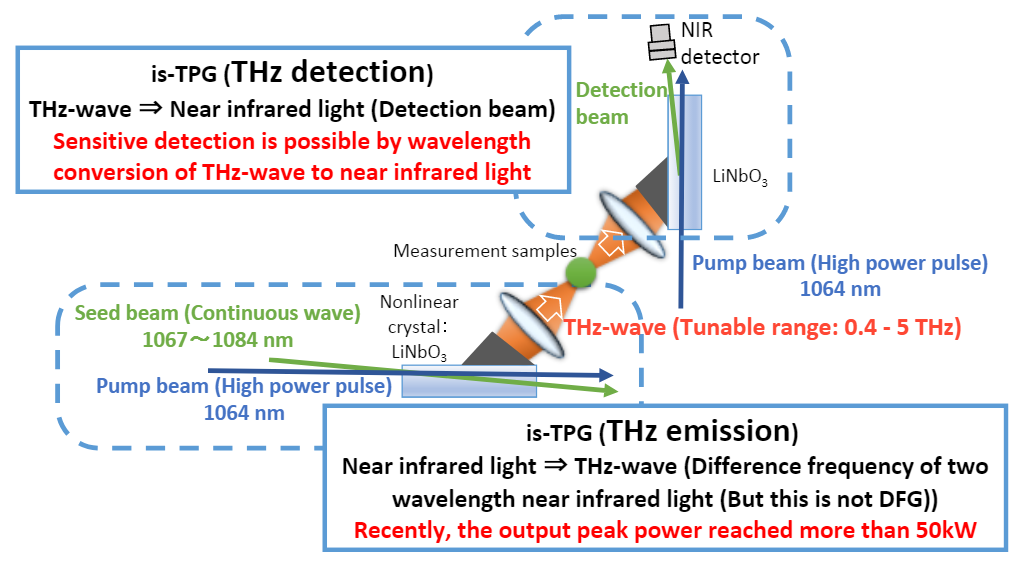 The injection-seeded terahertz (THz) parametric generator (is-TPG) is one of the most high-power single-longitudinal mode THz-wave source. Our system is less influenced by scattering, refraction, and multiple reflections by samples because it is a narrow-linewidth source, and the detection area of the THz parametric detector is large. Thus, it is suitable for nondestructive inspection of practical samples in the real world. And recently, we have focused our efforts on a real-time measurement system using a multiwavelength is-TPG, which gives rise to numerous potential applications, given the significantly shorter measurement times.
THz wave generation from LiNbO3 wave guide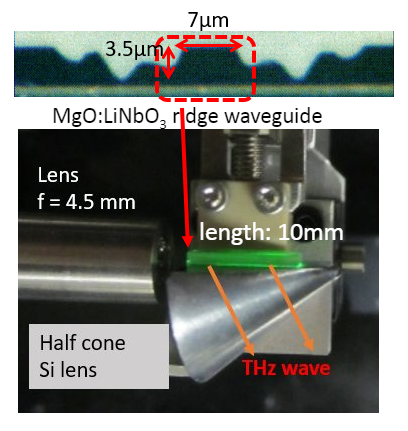 When combined with a nonlinear waveguide crystal, Cherenkov phase matching allows for highly effective generation of high power and broadband terahertz (THz) waves. Using a ridged Lithium Niobate (LiNbO3) waveguide coupled with a specially designed silicon lens, we successfully generated THz waves with intensity of approximately three orders of magnitude stronger than those from conventional photoconductive antenna. The broadband spectrum was from 0.1 THz to 7 THz with a maximum dynamic range of 80 dB. The temporal shape of time domain pulse is a regular single cycle which could be used for high depth resolution time of flight tomography.